Publication of "A Resurrection – NAGASAKI AUGUST 9, 1945 -"
Publication of "A Resurrection – NAGASAKI AUGUST 9, 1945 -"
On the occasion of the reprint edition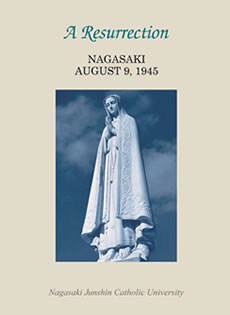 Sister Esumi, the then school principal, started compiling the ordeal records of the school and the student victims of the atomic bombing on August 9th, 1945, immediately after recovering from the devastation. The precious memories were published as a book titled, Junjyo Gakutotai Junnan no Kiroku (Memory of Junshin Student Mobilization dedicated their lives through the tragedy of the Atomic Bombing) July 13, 1961.
The book is made up of three parts: first, notes written by teachers, sisters, and staffs who suffered from hardships. Next, notes by the family members of the deceased students, and last, the list of the names of the victims in the "Junshin Student Mobilization".
Since then, the book was reprinted at regular occasions: the second edition in 1970, the third edition in 1980 in memory of the late Sister Esumi, the fourth edition in 1995, and the fifth edition in 2015, as a commemorative gift on the 80th Anniversary of the school foundation.
The reprint has been modified with new and additional documents as needed, but the contents of the first published edition are basically unvaried.
Chizuko Kataoka, ICM President of the Board of Trustees Nagasaki Junshin Educational Corporation
CONTENTS